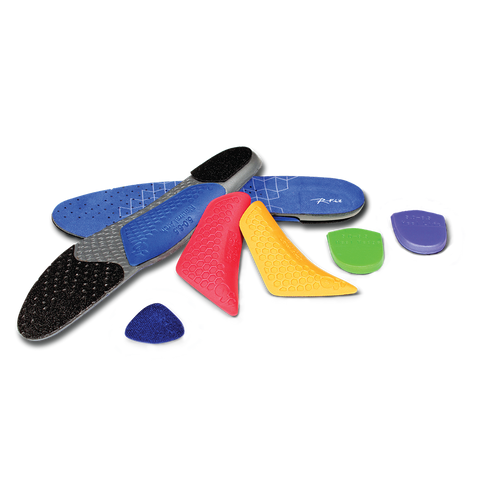 Riedell R-Fit Footbed Kit
The R-Fit™ Footbed Kit is an innovation in skating insoles!

In partnership with a leading podiatrist/former skater, we created the R-Fit™ Footbed Kit! Specifically designed to address the competitive skater's, in skate, foot support needs—The R-Fit keeps the foot ergonomically positioned in the skate for foot comfort and better on-ice control.

The R-Fit Footbed Kit is a comprehensive foot support system that fits into all skate types. It supports where a skater needs it, while cushioning and absorbing shock. The kit includes; three sets of adjustable arch support (low, neutral and high), two sets of heel wedges (for feet that pronate or supinate), one set of heel lifts, two metatarsal pads and an instruction guide. All components affix to the provided insole to create a customized footbed that stays in position under the demands of competitive skating.

Please Note: This product is not intended to be used as a remedy for serious injuries or issues. Should your discomfort become worse through using this product, remove the pads from your boots and seek medical advice.
---
We Also Recommend
---