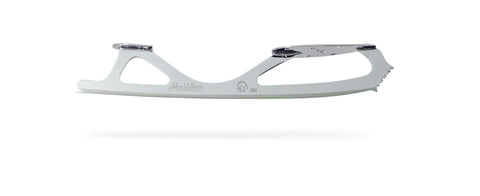 John Wilson Coronation Ace LITE Blades
Based on the most popular developmental blade in the world. The Coronation Ace Lite will help develop skills up to double lutz.
The modern design of the Coronation Ace Lite was inspired by the ground-breaking and record-setting results of the carbon fibre Revolution series.
-17% lighter
-Subtle rocker curve provides more stability and allows the skater to reach the base pick quicker
-New "Tuff" plates are lighter and 2X as strong as traditional options
-Thinner blade than traditional Coronation Ace allows for quicker change of edge and improved glide
-Cross cut picks provide secure bite when learning toe jumps and the 7ft rocker is excellent for developing skating skills with added maneuverability

Rocker: 7 feet
Radius of Hollow: 7/16"
Size Range: 8"-11"
Toe Rake Design: Cross Cut Blade
Type: Parallel
---
We Also Recommend
---